Home
Kilts of Many Colours started out as one guy learning how to play the bagpipes in 1996. He became proficient, and was asked to play at several local functions. In 2000, another guy wanted to learn how, but couldn't find a teacher. So, he called the police. No, really. He asked the police if they knew of any bagpipers in the area. They told him the first guy would be playing the next day for Police Memorial Week in Covington, La.. The second guy went to the event and convinced the first guy to teach him how to play the bagpipes. From there, word of mouth (along with some pressure from family and friends) caused others to join in the fun.


The first 'job' the group played was the 2002 Abita Springs Krewe of Push Mow parade. The group turned out three pipers and two drummers, and took the award for "Best Live Band". Let's not talk about how they were the ONLY live band! The Krewe of Orpheus then hired the band, followed by the Krewe of Erin in Ponchatoula and the Chef's Soiree' in Covington.

Today, the group boasts of ten pipers and eight drummers (and is still growing), and plays for a variety of functions, including festivals, art shows, Mardi Gras parades, block parties, weddings, and charitable events.

The group meets for practice and fun, sometime at the pipe majors house, and sometimes at the Mandeville lakefront. Anyone interested in the Great Highland Bagpipes or Scottish style drumming is encouraged to contact us, either to join us or to hire us.

E-mail us for more information on rates or for suggestions on how bagpipes can be included in your next event.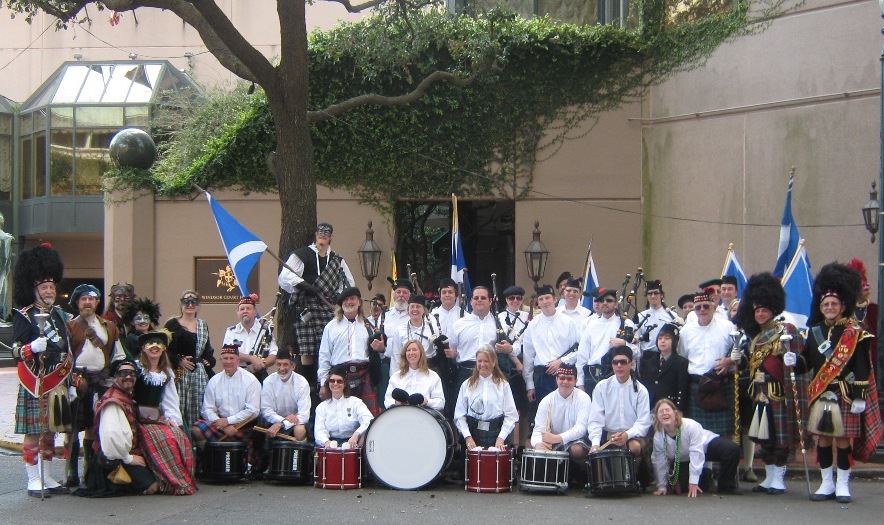 KOMC 2009 with Massed Band at Krewe of Rex, New Orleans, La.